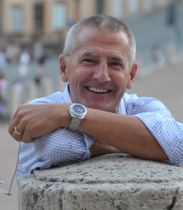 Paul Hiltermann
Paul Hiltermann possesses the rare combination of a Psychology Degree and over 25 years of top-level business experience. It is no wonder that he is fascinated by people & change and passionate about performance and bringing out the best in Leaders and Organizations even under the most challenging circumstances.
Born in the Netherlands Paul holds a Masters Degree in Psychology (Communication and Behavioral Counseling) of the University of Groningen in the Netherlands. At first working as a top-level professional sports-trainer & coach, he began his professional career in Human Resources in The Netherlands.
He continued his career initially in International Marketing, Sales & Supply Chain and afterwards in General Management for Rothmans International and later British American Tobacco, as CEO of Business Units in France, Switzerland and Sri Lanka and Non-executive member of the Board of Directors of companies in The Netherlands, UK, France, Tunisia, Sri Lanka, Bangladesh & Cambodia.
He has lived and worked in many countries around the world, particularly in Europe, Africa and Asia; he is fluent in English, French and Dutch and conversational in German.
During his professional career Paul has been in charge of three mergers and has become fascinated by people and their "love-hate" relation to change. In 2005 he retired from corporate life, moved back to Europe and now successfully runs his own consultancy practice concentrating on Leadership Development & Executive Coaching. Today, Paul is recognized as a leading expert in addressing performance and leadership issues by bringing about lasting, noticeable behavioral change.
His consultancy business brings him across the Globe, where he consults for International companies & organizations coaching CEO's & Senior Leaders in HQ's or end-markets. Paul is particularly interested & experienced in "addressing Leadership Issues" and in "Visionary and transformational Leadership", helping organizations to significantly improve their performance and Leaders & their Top-Teams to enhance their Leadership and create their Leadership Legacy.
Paul is a recognized thought-leader on Leadership Development & Change Management.